Description
Omegatech® Cyborg PW 850 Robotic Pallet Wrapping Machine
The Omegatech® Cyborg PW 850 Robotic Pallet Wrapping Machine is quickly becoming the machine of choice in many industries handling a high volume of palletised goods. With storage space at a premium, this compact machine allows operators to wrap a large number of pallets without the need of the traditional pallet wrapping machines that take up valuable storage space.
The PW 850 is an extremely simple machine to use, with a highly visual touch-screen control panel and motion controls, the machine is moved to the pallet with the guide wheel pressing against the flat edge, the film is the tied on and the machine will do the rest. This creates a huge time-saving in the packing area and allows the operator to get the next pallet ready for wrapping.
Capable of wrapping with all types of Omegatech® machine wrapping films, the PW 850 is fully programmable to wrap any type of pallet with consistent security, something that is very difficult to achieve when wrapping by hand.
Specification
Dimensions: W: 690mm x L: 1060mm x H: 2100mm
Weight 250Kg
Max. pallet height: 2100mm
Min. pallet dimensions: 600mm x 600mm
No Max. pallet width or length
Wraps approx. 320 pallets per charge (W: 800mm x L: 1200mm x H: 1500mm)
8 hours to full charge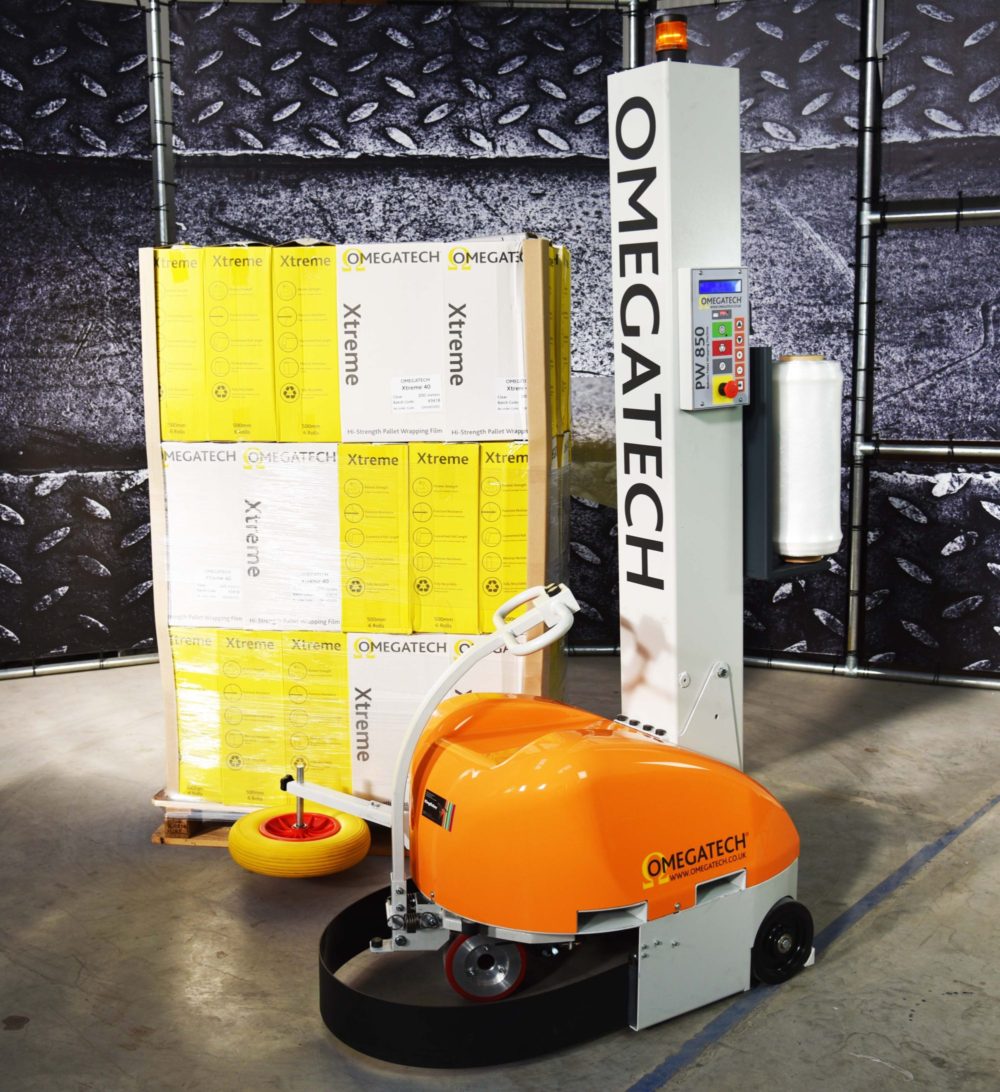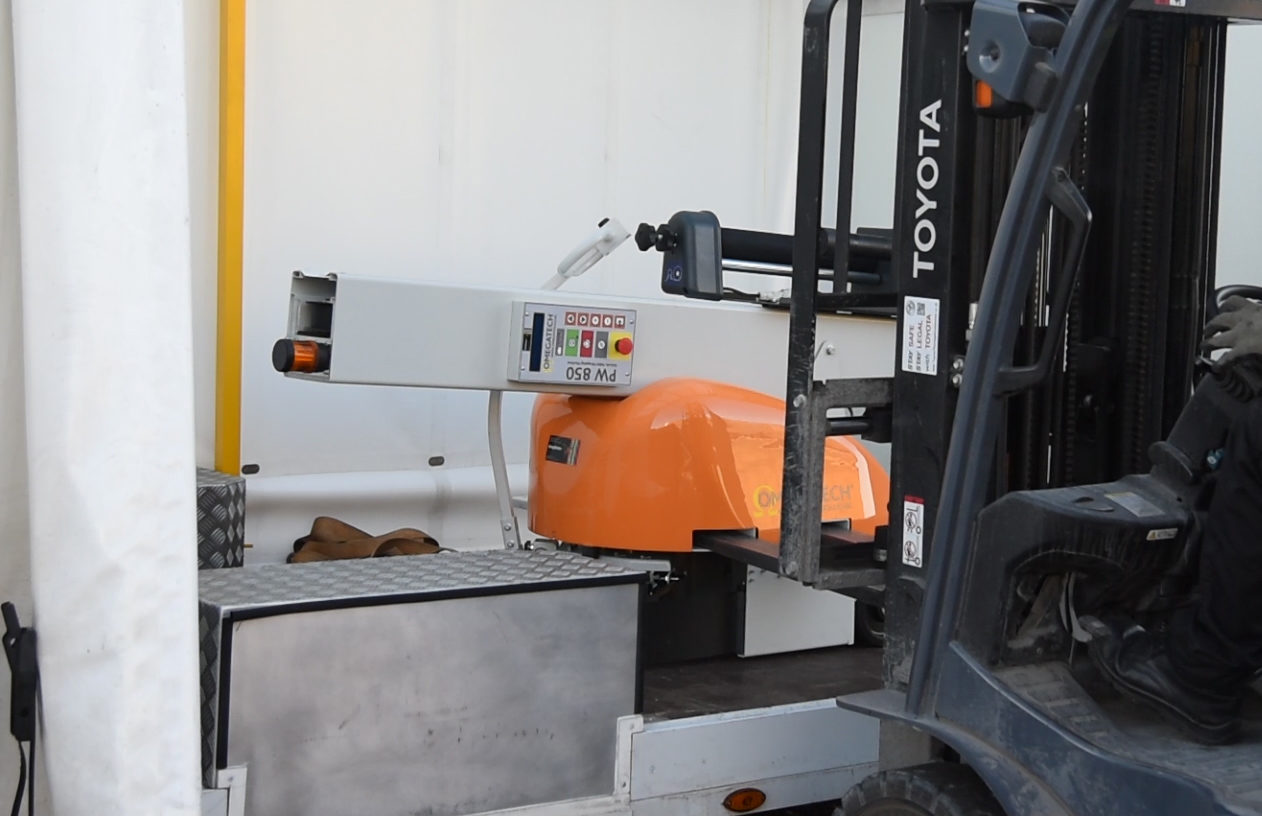 Side and back forklift lifting points with a hinged column for transport

The robotic pallet wrapping machine mast can easily and quickly be folded down to fit in standard size racking. Forking points to allow the machine to be moved to over longer distances or to different floor levels without risk of injury or damage to the machine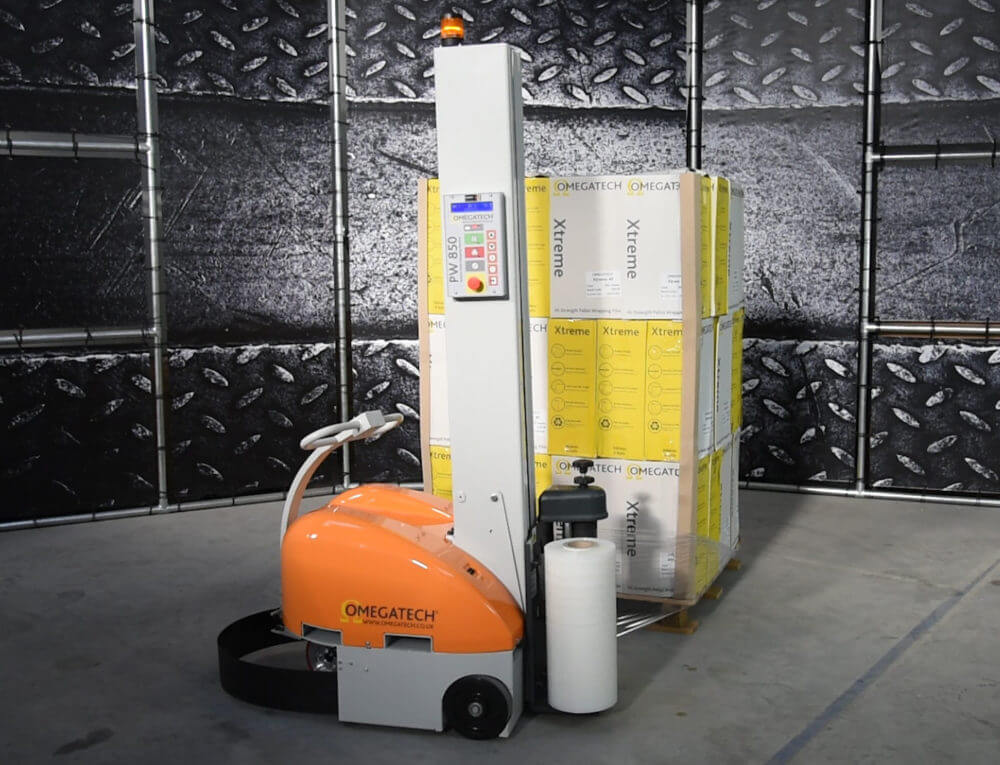 Reduce the risk of injury to warehouse operatives

Reduce the risk of back damage or repetitive strain injury caused by wrapping by hand. Allows staff to get on with more important tasks in the warehouse and creates greater efficiencies.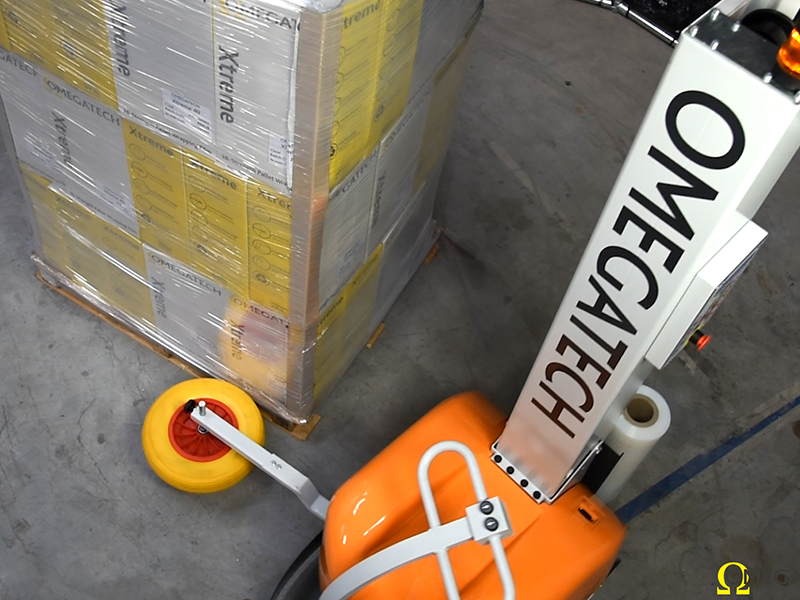 Advanced safety features for Operator protection

Safety bumper cuts power to the machine if knocked, protecting the machine and staff from harm. Motion signal lamp and sounder to reduce the risk of injury and to tell the operator when the wrapping has been finished.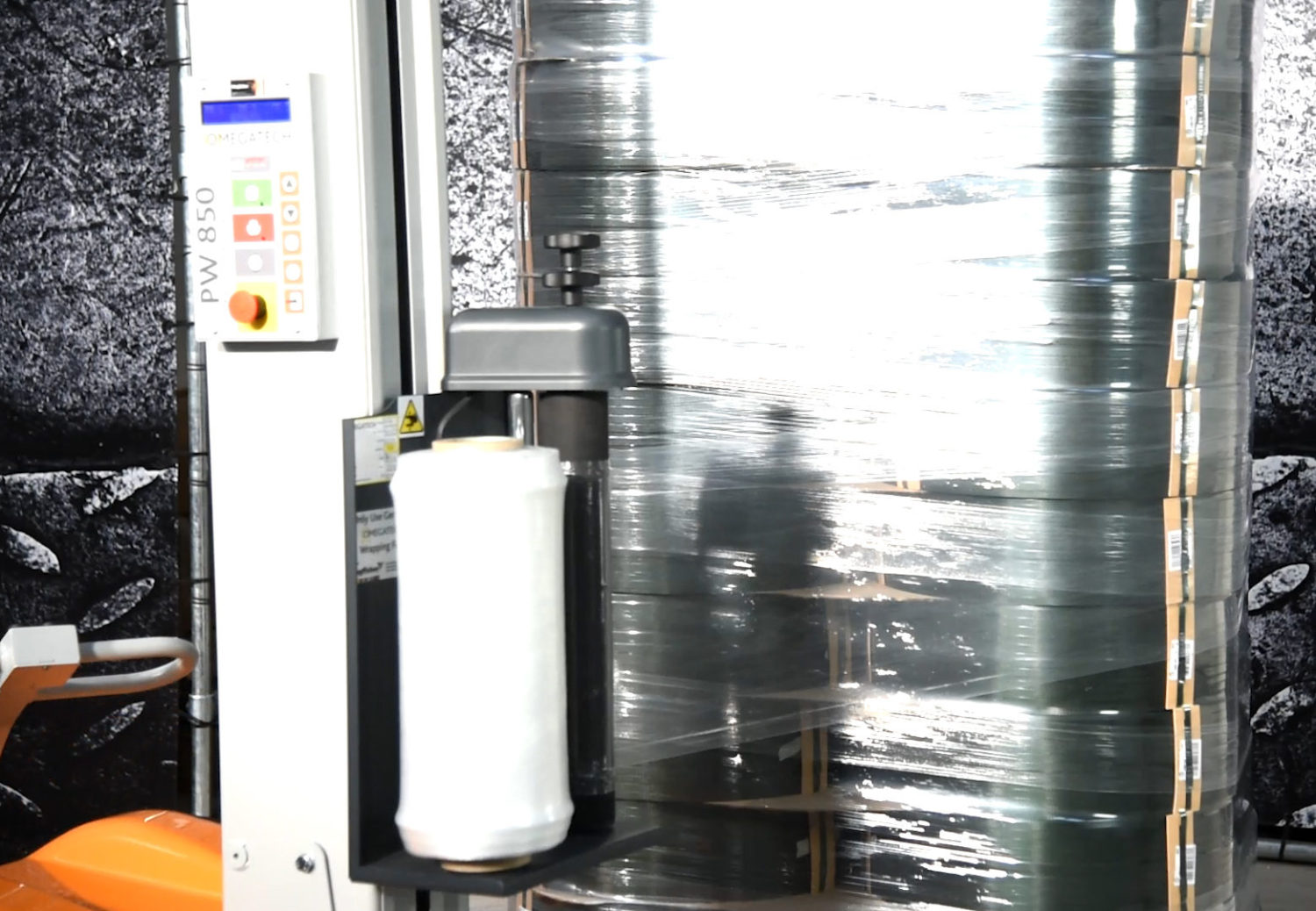 Fully Programmable

Many different wrapping options available for all types of pallets and applications. Adjustable speeds, tension, reinforcement wraps and pallet height detection.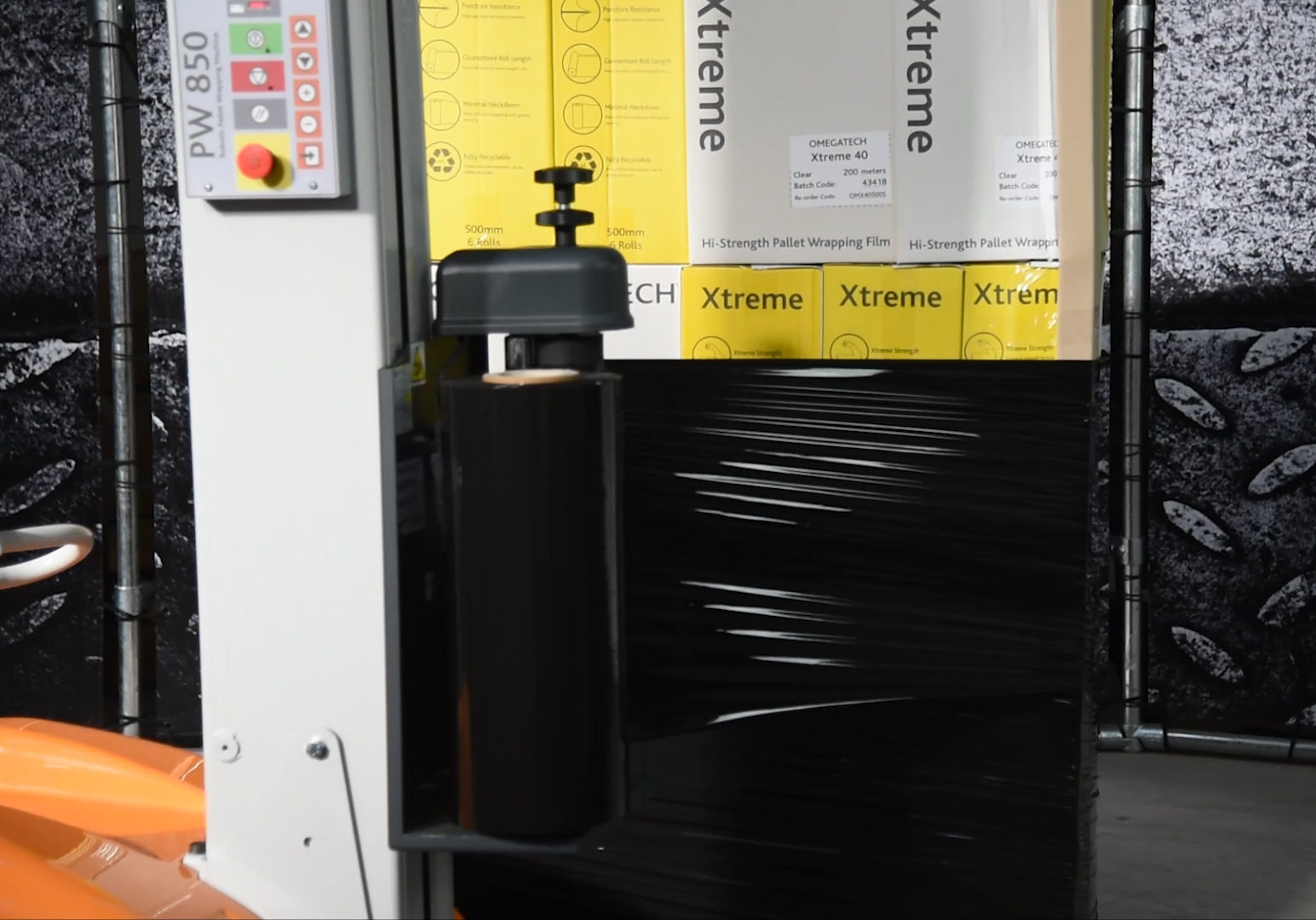 Wraps with All Omegatech® Pallet Wrapping Films

All Omegatech films fit perfectly on to the film carriage and are easy to thread through the rollers, making the setup process very fast and efficient.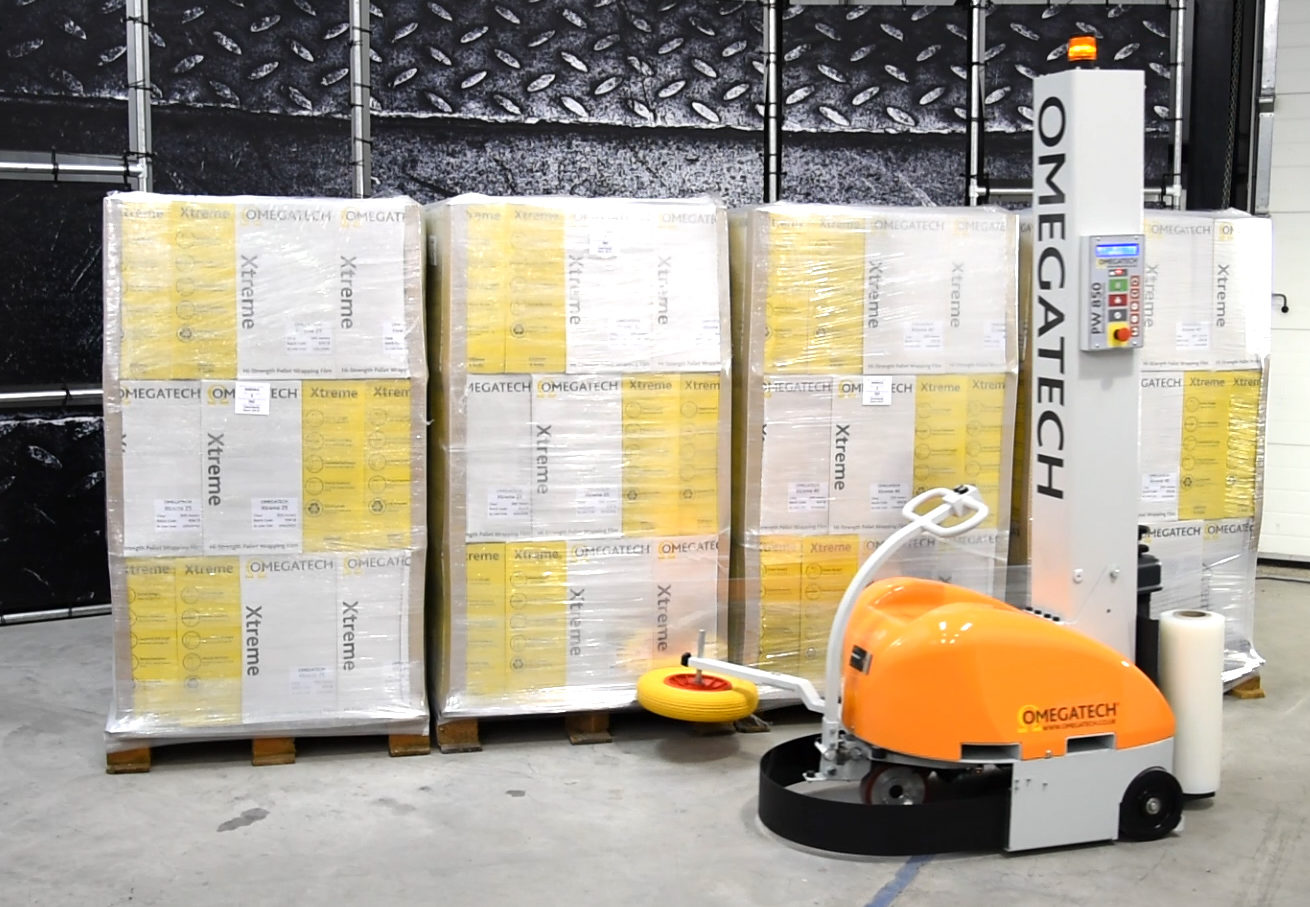 Capable of Wrapping Pallets of Any Size

Odd sized pallets that are difficult to wrap? The PW 850 is the perfect machine for you. Due to the simple but clever mechanism this machine uses, it is capable of wrapping oversized pallets of any length or width.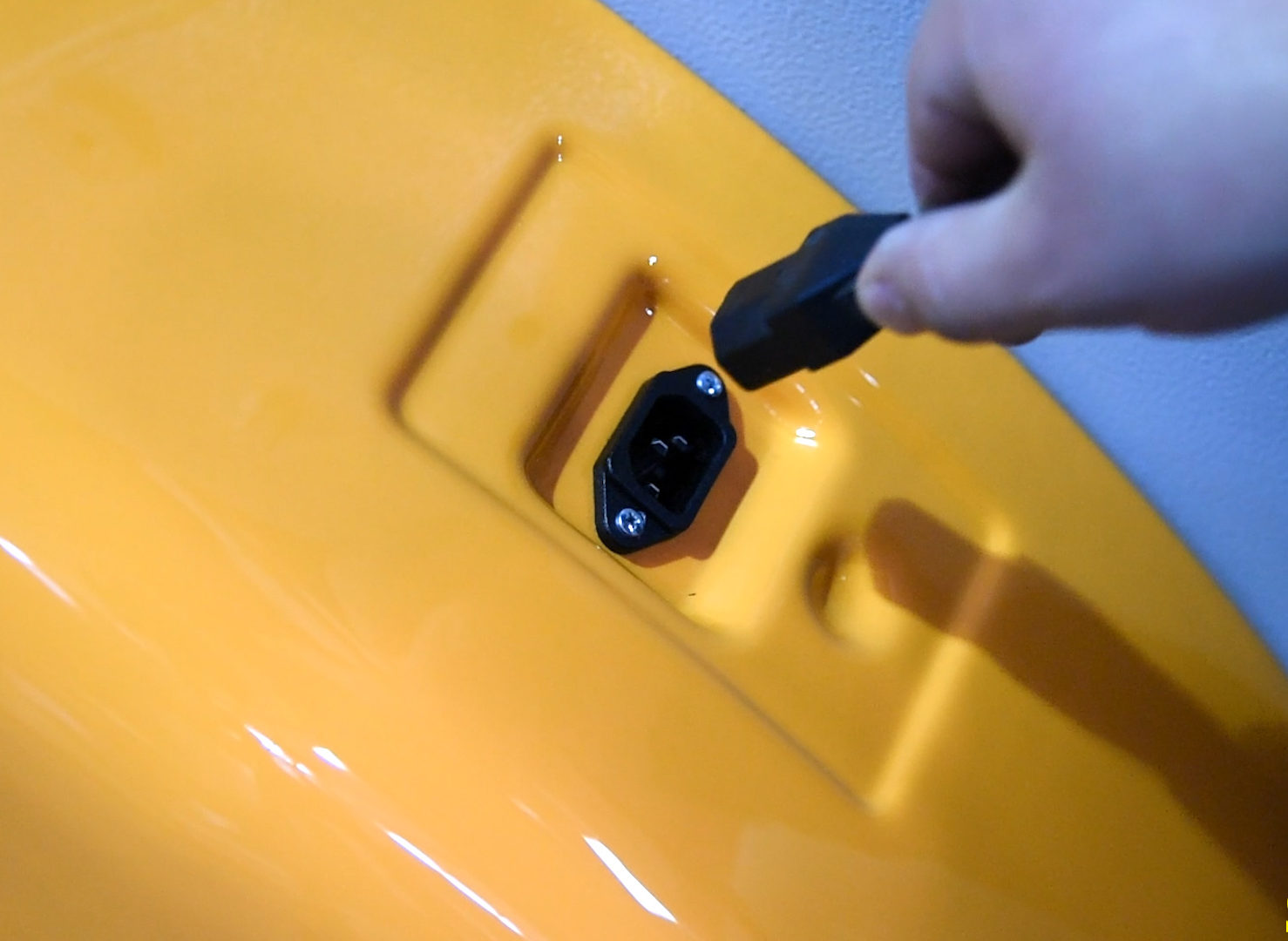 Long-Lasting Batteries with Extra Fast Charge Times

Wraps up to 360 standard sized pallets per charge Plugs into a standard 240V/13A socket with an 8hr full recharge time.