Description
The KC 100 Edge Board Cutter has revolutionised the way cardboard edge protectors are cut to length. With sharp guillotine blades and a specialist handle, the tool creates fantastic cutting power. This allows it cut cardboard edge boards up to 10mm thick, with little effort for the user.
KC 100 Edge Board Cutter Key Benefits
Create your own custom-made edge protectors to any length you want, helping to maximise efficiency and minimise wastage.
Prevents operatives from snapping the boards or having to use knives, saws or other potentially dangerous items to cut the edge boards, creating a safer work environment.
Heavy-duty construction with long lasting blades for continual high-volume usage.
Safety shields on the sides of the cutter reduce the risk of accidents, protecting the user whilst cutting.
Ergonomic handle with rubber grip for easy, comfortable use, creating fantastic leverage with little effort, therefore providing the tools fantastic cutting capacity.
Gives a neat finish on every cut, offering a more professional image for your packages and pallets.
Safety pin for locking pin, allowing the tool to be fully portable
Compact design to minimise the footprint on a packing bench or in a dispatch area.
Easily secured to a bench or table with bolts using the pre-drilled fixing points or using C-Clamps. (Supplied separately, please inquire)
Cuts cardboard edge boards up to 10mm thick and 100mm X 100mm wide.
Common Industry Uses for the KC 100
High Volume Pallet Networks and Pallet Distribution Centres, where the sizes and heights of pallets can have large variances.
Uneven pallet consignments often require different length corner boards.
Shipping frames and profiled materials are often supplied in varying lengths and sizes. Edge boards are an ideal medium for protecting vulnerable corners.
Pallet or box strapping protection. Cutting corner boards to short lengths and placing them under the strapping prevents crushing as the pallet or box is strapped.
Another use for varying lengths of edge board is to place them in the bottom of a cardboard carton for reinforcement. This can require a large number of different lengths, something that is efficiently and easily achieved using the KC 100 Edge Board Cutter.
Specification
Size (with handle down):   600mm(L)  X  203mm(W)  X  400mm(H)
Weight:  7.25kg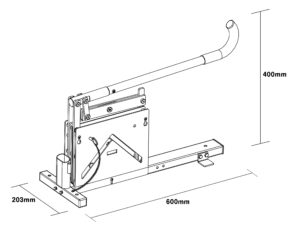 |  Description |  Code |
| --- | --- |
|  PROPAK Edge Board Guillotine |  KC 100 |