Description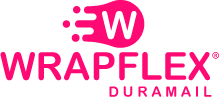 Wrapflex® Duramail Mailing Sacks are 100% recyclable and have a minimum of 50% recycled polythene too, resulting in a great environmentally friendly and sustainable way forward in your packaging process. 
Wrapflex® Duramail Mailing Sacks are made with the highest quality materials. Designed with a co-extruded formula, the multiple layers result in an extremely strong and durable sack. They are also lightweight, allowing a very cost effective way of sending your goods, whilst helping save on shipping costs, ideal for E-commerce fulfilment. 
Wrapflex® Duramail mailers also have an instant grab adhesive, keeping your products secure for the whole of their journey and providing an anti-tampering seal. This also results in keeping your products safe from the elements such as rain and direct sunlight.
The material is also 100% opaque so the products inside will not be visible, providing security for your products, keeping them hidden from prying eyes. 
|  Wrapflex® Duramail Mailing Sacks |  Size |  Code |  Box Qty. |
| --- | --- | --- | --- |
|  Code 0  |  152 x 229mm |  WFDM0 |  1000 |
|  Code 1  |  229 x 318mm |  WFDM1 |  1000 |
|  Code 2  |  305 x 406mm |  WFDM2 |  500 |
|  Code 3  |  330 x 483mm |  WFDM3 |   500 |
|  Code 4  |  432 x 560mm |  WFDM4 |   500 |
|  Code 5  |  483 x 737mm |  WFDM5 |   250 |
|  Code 7  |  711 x 584mm |  WFDM7 |   200 |
|  Code 9  |  700 x 800mm |  WFDM9 |   200 |