Description
A heat sealer is an absolute necessity in any warehouse or packing area that uses polythene layflat tubing or polythene bags. With a large range of sizes and available with or without a cutter and many other accessories, we have the correct sealing machine to suit all applications.
Impulse Heat Sealers
A simple, easy to use desktop sealer that creates a professional and secure seal on products such as polythene bags and layflat tube (which is fantastic for making your own custom bags to fit your products perfectly). These heat sealers are available in a range of sizes from 200mm to  500mm, with an optional cutter to create a neater finish. All sizes have an adjustable timer, making them suitable for most thicknesses of polythene and maintains a consistent level of sealing.
Electromagnetic Heat Sealers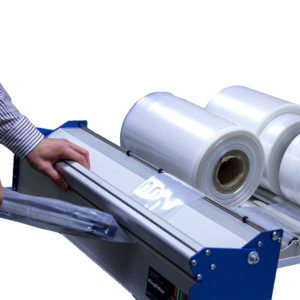 These heavy-duty semi-automatic heat sealers are ideal for prolonged sealing production. With an adjustable sealing and cooling time and integrated sealing magnet, you can achieve and constant quality seal every time.
These also come with an integral safety cutting blade and magnet that allows the operative to start the sealing process by pushing the bar down and then the machine will seal and release by itself, making it a safer, more efficient and user-friendly machine. These are also available in a range of sizes from 600mm to 1000mm.
Foot Operated Pedestal Heat Sealer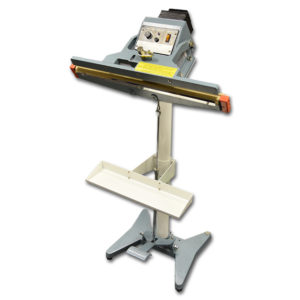 This heavy-duty heat sealer is ideal for sealing larger polythene sheets and bags or for when the operative needs both hands to hold the product whilst sealing. The floor mounted sealer has a built-in foot pedal that brings the sealing jaws together when pressed, making it easier and faster to use. This also has a built-in timer for consistent sealing results.
With such range of sealers available and so many optional accessories such as polythene roll unwinding devices, heat sealer tables and plug-in foot pedals, we would love to discuss your requirements with you to ensure that you find the best heat sealer and accessories for your packing line. Contact us today on +44 (0)1823 653400 and talk to one of our experienced sales team members for further advice.