Description
100% Recyclable Paper Document Enclosed Wallets
Often one of the last items that is added to a pallet or parcel is the documents enclosed wallets, and its is often one of the last items this still made of plastic! But it doesn't have to be any longer!
The Actuspack® range of 100% paper document enclosed wallets is providing a genuine plastic-free alternative method to make sure the shipping documents arrive with the goods, whilst protecting the environment. Avilable from stock to suit the three most common paper sizes, the high grab adesive makes it fast and simple to apply the documents to many surfaces.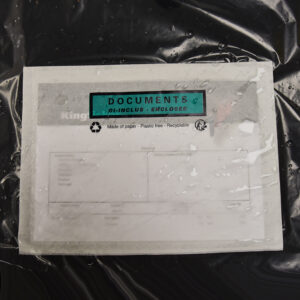 Plastic Free! Made from 100% paper and 100% recyclable.
Available from stock to suit A4, A5 & A6 paper sizes. 
Completely sealed and water-resistant to protect documents from showers and dust.
Instant, high-grab adhesive secures the wallet to many surfaces.
Text can be read through the paper, allowing details to be checked without having to open the wallet.
Strong seal and high quality paper to withstand the shipping process.
Supplied in neat boxes that are easy to pick from, keeping them tipy on the shelf and reducing wasted time in the packing process.
Easy to apply with peel-off paper backing, saving time and wastage for your packing team.
Why not place a trial order now!
|  Description |  Size  |  Code |  Box Qty. |
| --- | --- | --- | --- |
|  Actuspack A6 Paper Document Wallet |  158mm x 110mm |  APDEA6 |  1000 /Box |
|  Actuspack A5 Paper Document Wallet |  225mm x 165mm |  APDEA5 |  1000 /Box |
|  Actuspack A4 Paper Document Wallet |  318mm x 235mm |  APDEA4 |  500 /Box |