Description
100% Recyclable Paper Pallet Wrap
If your company is truly committed to removing plastics from the packaging process, then the Actuspack Paper Pallet Wrap is certainly an option for you. Depending on your application, method of transport and type of goods, the paper pallet wrap offers a genuine alternative to hold your goods securely to the pallet, using only paper.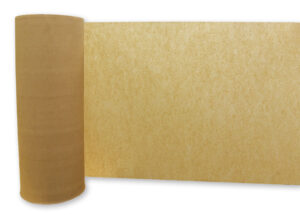 Made from 100% paper.
100% recyclable.
Low-Tack backing to help it stick to itself, securing the load.
Creped paper stretches up to 30% .
Rolls are lightweight and easy to use, by hand or with a dispenser.
Compatible with Omegatech PW1000e & Dart Mobile Pallet Wrapping Machines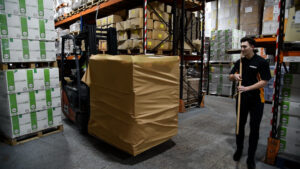 Actuspack paper pallet wrap is perfect to protect pallets whilst in transit. The wrap also provides a slight stretch to allow you to get good pallet security, ready for it to be moved by a forklift or pallet trucks. We recommend you use a small tab of Actuspack self-adhesive paper tape (TPA50) to finish off the wrap neatly and to prevent it from unravelling during transit.
When unwrapping it is an easy and simple process,  as a 100% paper product, it can then be disposed of in a standard recycling bin.
Why not place a trial order now!
|  Description |  Code |  Size  |  Box Qty. |
| --- | --- | --- | --- |
|  Actuspack 100% Recyclable Paper Pallet Wrap |  ACP-PPW |  500mm |  2 |