Unless you are a jockey!
Here at Kingfisher packaging, our commitment to supporting local and national charities has enabled us to meet some great people and enjoy some fantastic experiences. However, this one has to be the most unique so far.
On Wednesday 12th July 2017, we had the privilege of presenting a cheque to Rainbow RDA, a registered charity providing equine-based therapy and horse riding for both physically and mentally handicapped children and adults.
The donation was for the purchase of a new mounting block (see below) to make it easier for riders to mount the horses safely.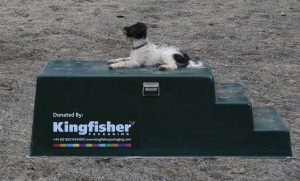 The chairman of the charity and other members expressed their gratitude for this donation and mentioned how much it will help riders develop physical and mental skills.
Following the presentation, we were then privileged to be taken for a ride on horseback around the training arena, resulting in much laughter and aching legs.
For more updates like this and other company news, please click the button below to subscribe to our newsletter.